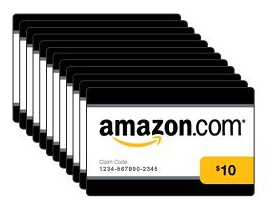 If you invite 5 friends to Stumble Upon - This is a free way to read interesting articles online - and they sign up - still free, folks. You get a $10 gift card to Amazon.com. This can be added to your Opinion Outpost and Swagbucks $$ for Christmas, you can get cheap diapers and wipes, whatever you want, $10 and how easy is that!
1. Sign up for StumbleUpon here:
http://stumbleupon.extole.com/m/1024675717
The invite your friends via Twitter, Facebook, e-mail, carrier pigeon, smoke signals...whatever your preferred method of communication may be.
2. They send you an e-mail every time someone signs up under you. Once you get to 5, you get a code for a $10 gift card on Amazon!
Amazing!!!
Many thanks to Sharlina for pointing this one out!
Ashley