Free shipping code no longer valid. I can no longer endorse this company due to my experience with their customer service this morning. My apologies.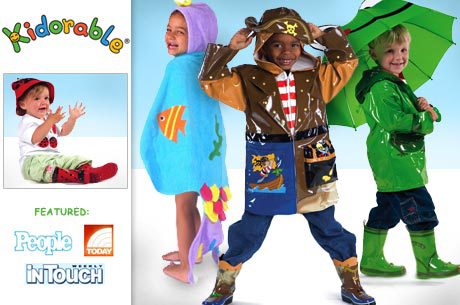 Kidorable has these awesome raincoats, boots, and umbrellas, and they have winter hats, gloves and scarves too. Also, really unique backpacks if your kid is in need of one of those!
Plum District
has a deal, $15 for a $30 voucher to Kidorable. Use the code mobile40 to get $6 off (You don't have to be on a mobile phone. I did it from my laptop.) and you'll pay $9 (less if you have your signup credit or referral credits!). Then, wait awhile to go to the site because it's totally out of control busy and will just frustrate you by going about half the speed of smell.
You have until December 5th to use the code GRATEFUL to get free shipping!
I'm already shopping ahead for the boys' birthday gifts. These will be great....they love costumes. I'm thinking I have a pirate and a knight for children...but I've enlisted the opinion of my loving husband and I have until 12/5 to decide!
Ashley