I know the majority of my readers are from the US. And we all know what today is. When I heard, I was in gym class with Miss Carolus, and someone said, "Some idiot flew a plane into the twin towers." The gravity of this didn't resonate with me - I was a kid. I thought to myself, "How in the world can you miss those?? They are HUGE!" And then it occurred to me that it hadn't been an accident.
We were glued to TV news coverage for hours. I remember watching Jon Stewart from the Daily Show that evening, seeing him cry on the air.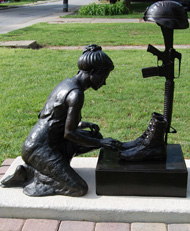 We heard from relatives and friends that people were OK, that they had been caught in traffic, that they were sick that day. We heard stories of people who were looking for people that were not accounted for. We prayed for the community servants that were trying to find and rescue trapped victims, we prayed for the victims that they would hang on until help arrived. And then we prayed for all those touched by it, without realizing at first that we were also praying for ourselves...because who wasn't touched? This happened, and we were immediately at war.
I am very thankful for the service of men and women braver than me, that kept 9/11 from becoming even worse on US soil. So I picked today, to tell all you special and wonderful readers about this memorial opportunity.
In Milroy, PA - which is where I grew up - the Veterans Association is putting in a memorial. It's brand new; the groundbreaking was a month ago. It's going to have this statue of the Battlefield Cross and a woman honoring it, which along with a dog, will form the center of the monument.
Surrounding the statue there will be bricks, engraved with the names of veterans honored here. It will commemorate all veterans, from every branch of service, every conflict, and it does not matter if they served during a war or not. All military, from any state or town, will be remembered in this memorial. The flags from each branch of service will be displayed, along with a POW-MIA flag to commemorate those who didn't make it home.
No matter where you live, or who you are, you can dedicate a brick and be a part of this memorial. There are two sizes of bricks that are available to you - one is a 4x8, which is pictured. Engraving and all, this costs $50. You can get a lot of information onto a 4x8 brick, but if there is more you would like to say, there is a larger brick, an 8x8 which costs $75.
Again, ALL MEMBERS of the US military are welcomed here. Any branch, any conflict or no conflict, living and dead, and deployed or not. All US military veterans will be honored.
If you don't have a specific person to honor with a brick, you can also get a brick that says, "In Honor of All Who Served, From the Smith Family" and clearly use your own words or last name if your name is not Smith. :)
You also don't have to be a PA resident to be included. They have bricks coming from several states already, and they would love to have all the states represented, in true united form!
Especially on a day that is so permanently etched into our minds, why don't we etch our appreciation for those men and women who keep us safe and free into something that can permanently be seen at a memorial?
You can
download the form to order a brick here
, and I also encourage you to like
Milroy Veterans Memorial on Facebook
, so that you can be updated on the progress made over the coming months!
Check out the site for more information about this awesome memorial project. I hope you'll join the Bedfords in supporting it - I would love to have my readers involved in this with us!
Ashley