I was recently included in a BzzCampaign from
BzzAgent,
which is a word of mouth marketing company, that offers free or discounted products in exchange for your honest opinion, review, and for sharing that opinion with others (buzzing). In the spotlight for this particular BzzCampaign was Excedrin Extra Strength.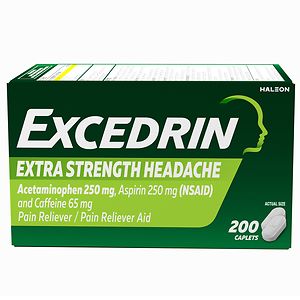 Now I am no stranger to Excedrin. But I've never used Extra Strength. I get migraines, so I always go straight for the Excedrin Migraine.
My routine was, take two Excedrin Migraine, drink two glasses of ice water, get in the shower as hot as I can make it and let it beat down on the back of my head until I get dizzy, then go to sleep in the dark with no lights anywhere, and the migraine is gone. Eventually.
And if you get migraines you know that everybody has a cure that their brother's aunt's cousin's best friend's mom's sister uses and it works every time. Pickle juice. Stop drinking wine. Stop eating chocolate. Take two Tylenol and one Motrin. Ice pack on the forehead. Heating pad on the neck. Fancy shoe insoles. Chiropractor. The thing about migraines is....everybody's different. For real. There's no clear and simple way to just fix a migraine and what works for one may not work for another.
But, trying to be a good sport, I did participate in this campaign, so I tried out the Excedrin Extra Strength last time I got a migraine.
So guys.
It turns out, it worked better than the migraine formula! Instead of my normal routine, I took two Excedrin Extra Strength with one glass of cool water, and then I sat on the couch with my eyes shut while my kids played around me loudly.
Fifteen minutes. I kid you not. Migraine OVER in fifteen minutes.
This means big changes for me. No longer will I suffer at work all day long until I can get to a dark place. No more suffering with my kids for hours until my husband gets home from his job.
I'm officially convinced. I am switching. Excedrin Extra Strength gets the official Bedfordnomics seal of approval.
My fellow migraine sufferers out there - try it. It might work for you. But before you do,
go print a coupon for a dollar off
. Friends don't let friends pay retail.
Disclaimer: I was provided with a free product in exchange for my honest review. The freeness of the product in no way affects my opinion of the product. All of the above are my actual opinions based on my experience with the product.